"You don't have to just go in there for a sensory experience, you could also go in to play games. It is more accessible for all our members."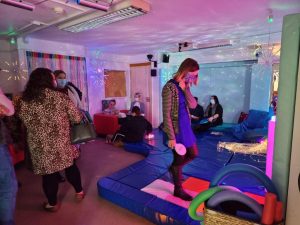 Danny's sister-in-law, Sue, speaking for the family, said: "Danny thoroughly enjoyed his time at The Maltings. He made some good friends, had wonderful experiences and was very fond of the staff. We hope everyone who uses the sensory room will enjoy it – including the staff!"
Kerensa said:
We were amazed when we found out we had been left this money. Everyone's jaw dropped – just like that we were able to make some real impact to benefit everyone at The Maltings.
"Danny was so lovely – he was such a brilliant character at The Maltings. When we lost him it was a massive part of The Maltings gone. Dan really benefited from the sensory room and the impact it had on him showed.
"We always wanted to do something for Danny, so this has been the perfect way to remember him."
The team at The Maltings held a special event to unveil 'Danny's Den' for Maltings members and Danny's family, along with other friends of the Maltings including HM Lord-Lieutenant in Norfolk, the Lady Dannatt and North Norfolk MP Duncan Baker, who just raised over £1,000 for FitzRoy in the London Marathon.
FitzRoy patron, Margaret Marshall, and FitzRoy ambassadors, Barbara Thomson and Michael FitzRoy also attended.