Making every moment matter for John
John lives in one of our supported living services in Nottingham and in the two years he has lived here, we have really got to know him. We can see how he enjoys his own company and often prefers doing things on his own rather than with a big group of people.
Service manager Emily said: "When John moved in, we were told he wouldn't go into a shop, he wouldn't get on a bus and that he would get easily agitated. Since living at Boxley Drive, John has done nothing but prove all of that wrong."
So his support workers are always looking at ways to get John to build on his progress and try more things that aren't necessarily in his comfort zone.
Deputy manager Chloe said: "If we don't encourage John to try new things, we are missing opportunities for him to find things he loves. For example, last year he was supported to go swimming for the first time in 30 years, and he absolutely loved it. He also enjoys browsing in charity shops, visiting the café for cake and a coffee and going to the cinema.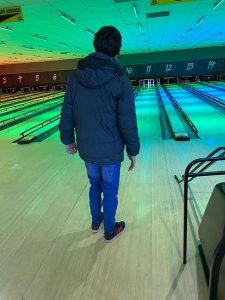 "John has become a much more sociable person since living with us, he is constantly thriving in his day to day life. And now there are no lockdown restrictions, John's social life is expanding. We recently supported him to go bowling and to the amusement arcades. When he came back home he had the biggest smile on his face, as he had won the game and was so proud! He loved telling all the staff that he had won. He is now very keen to go again as he had such a good time.
"It is just great to see him so happy and a pleasure to be able to be part of the Boxley Drive team, they are one of many great teams at FitzRoy that live and breathe the three FitzRoy values everyday – we see the person, we are brave and we are creative."
I like bowling, I won didn't I? When am I going again?
John