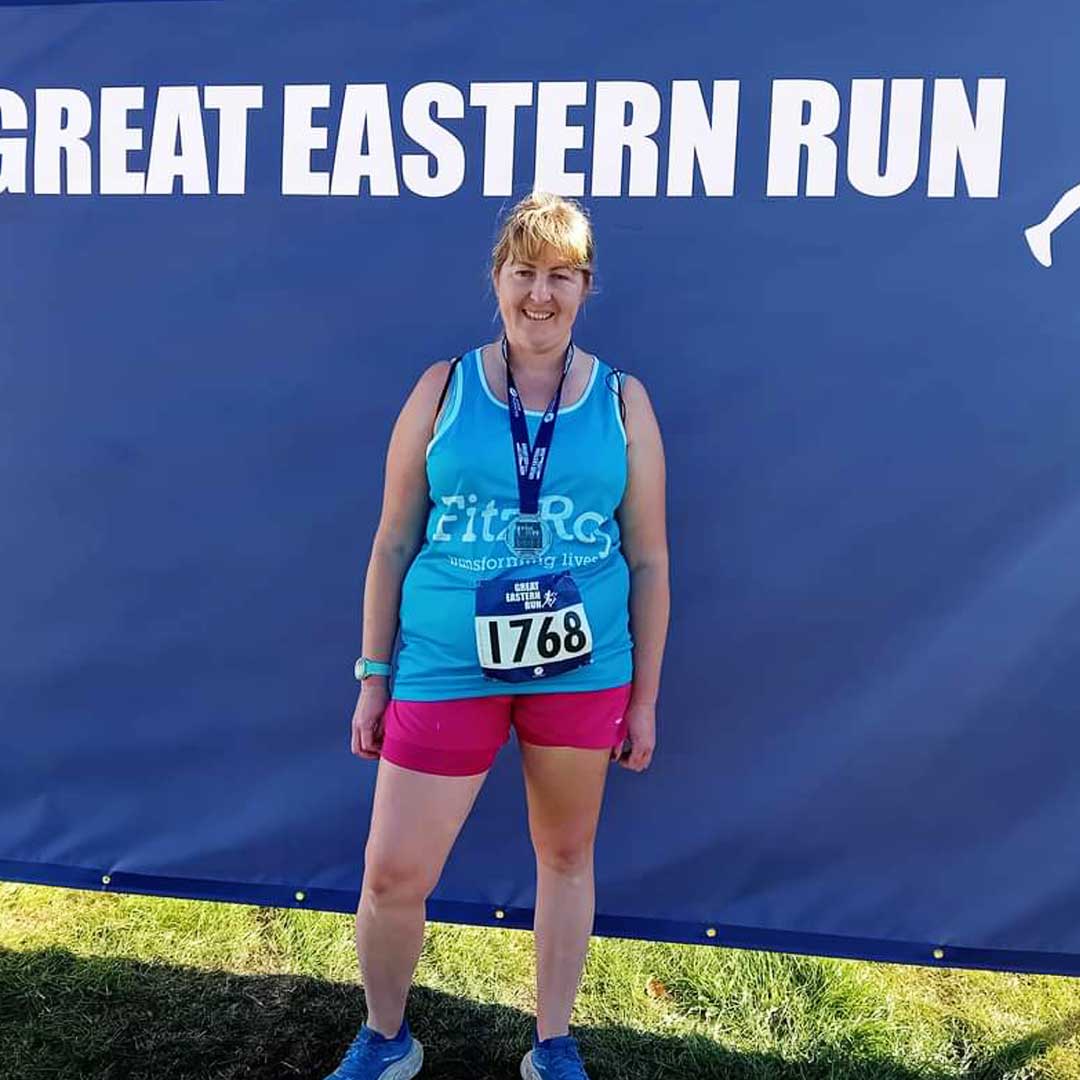 Rachael, a support worker at our supported living service in March, Cambridgeshire, has recently completed two half marathons fundraising for FitzRoy, and she's not stopping there! 
Towards the end of last year, Rachael embarked on a personal fitness journey, challenging herself with the Couch to 5K program.
Reflecting on her motivation, Rachael said: "As a support worker, I've witnessed first hand the ripple effects of the cost of living crisis on the people we support and it got me thinking about what I could do to help. As I'd taken up running, that seemed like a great opportunity to raise money for FitzRoy as I took on increasingly more challenging events."
Over the year since she took on that very first Couch to 5K challenge, Rachael has felt her fitness improve significantly, completing several 10K Park Runs. Her first half marathon took place in October in Peterborough, also marking her first run raising money for FitzRoy.
"It was undoubtedly a mental challenge for me, as I had never run a half marathon before. The last two miles were particularly challenging as the realisation of the distance still left to go set in. However, the overwhelming kindness of people and the incredible atmosphere kept me going – along with thinking about why I was doing this. The streets were lined with supporters, cheering and offering sweets and refreshments. It was truly inspiring."
Looking ahead, Rachael has planned two consecutive 10K runs on New Year's Eve and New Year's Day, which she has already started fundraising for. 
"In 2024, I want to set a significant fundraising goal for myself. I'm starting with the two back-to-back 10K runs this New Year and planning many others throughout the year. Knowing that my running efforts are helping a cause that is so close to me is what pushes me to keep going."
So far, Rachael has successfully raised £356. Deputy manager Liz said: "Rachael's fundraising efforts are incredible, going from the Couch to 5K challenge less than a year ago to running half marathons now! All the money she raises will go towards getting those little extras that can make such a difference for the people we support – for instance, getting things for the garden in time for next summer. If reading Rachael's story inspires you, please do support her fundraising efforts for such a great cause."
If you would like to support Rachael in her fundraising efforts, you can do so here.