Steven finds a home at Hall Drive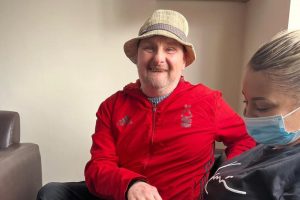 At FitzRoy we believe people with learning disabilities should be able to live independently, with their life filled with love and choices. Our Hall Drive supported living service in Nottingham is a great example of how we support people in their community and keep them out of institutionalised care. Steven, one of the four residents, has autism, cerebral palsy, epilepsy as well as a learning disability and tunnel vision.
Steven lived at home with his mum, dad and sister, for many years attending a day centre. Increasingly, he was struggling to manage his behaviour but a regular routine at home, day centre and respite enabled Steven to remain living at home for more several years.
After his Mum's retirement, Steven moved into a shared supported living service in 2013. He lived there for 15 months gaining independent living skills and confidence. But by 2015 he was struggling and was sectioned at a local hospital. Over the next few months, he was discharged and readmitted on several occasions before moving to Hall Drive from hospital later the same year.
In his first year with us, we worked closely with the local mental health team and his sister Tracey to make sure we could offer the best support to Steven, the last thing we wanted was to fail him. It isn't always easy, and there have been challenges for Steven and for the staff, but they have been working with Steven on building his vocabulary so he can express his needs and wishes. Tracey says, "he's gone from a few signs to full on conversations and even asking questions."
We have supported Steven to build his independence and live a life where he has choice and control and after many years, he now considers Hall Drive his home and the staff there, his extended family. Steven loves to watch Hi de Hi and Worzel Gummidge, play darts and loves Nottingham Forest!
Gareth, senior support worker said: "It was a really tough environment for him to come into because it wasn't his home or what he was used to.
"The core team worked really hard with him and after a month or so he started to settle, and month by month he's settled in even more and this is his home now. We're his extended family."
Give me a trumpet and I'll blow it from the rooftops, I cannot praise the team highly enough for what they do. They've given him their time and given him a life and they've involved me in everything too. I was the one who had to section him for his own safety but he's just gone from strength to strength and now he's just a different person. Without FitzRoy I think he'd still be sectioned now, living an awful life.
Steven's sister Tracey