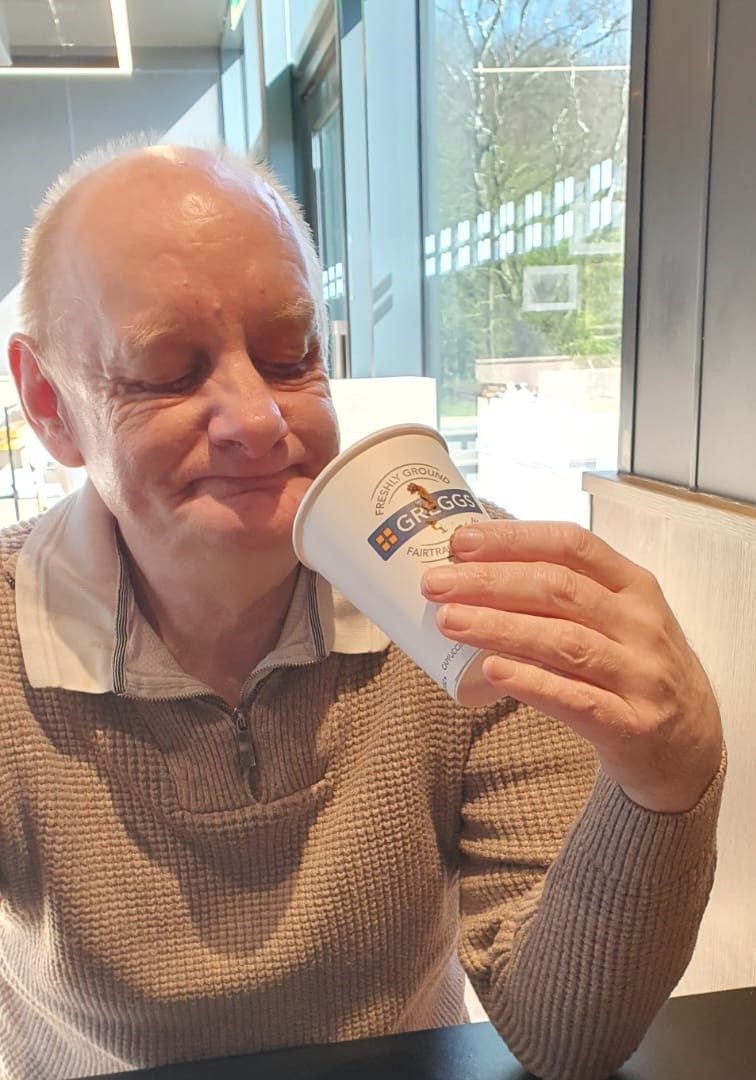 Tony overcomes challenges and finds independence
After a setback last year, our staff have been working with Tony to get out and about more independently. 
Tony lives in one of our supported living services in Nottinghamshire, where he receives full-time care and assistance with everyday tasks such as medication, finances, and cooking. 
Deputy manager Emily said: "Tony thrives on routines. He used to attend a local day centre five days a week, which he greatly enjoyed. Unfortunately, due to severe staffing issues, his attendance was reduced to two days a week and eventually, he was informed that he could no longer attend at all. 
This sudden change was extremely challenging for Tony, and he spent very little time outside his house. While he would occasionally go for short drives and listen to music, he would go straight back to his room when he got home. Support worker Joanne started encouraging Tony to venture out more often, and she chose Greggs as a starting point as Tony likes going out for food, and it is quiet.
"To familiarize Tony with the surroundings and to build his confidence with going out, Joanne began with small steps. They would drive to Greggs, place their order, and then leave. Over time, Tony's confidence grew, and he started enjoying these outings more and more. Now when they visit Greggs, Tony confidently places his own order and feels comfortable enough to sit at a table simply enjoying his lunch. 
"While Tony communicates verbally, understanding him can require some familiarity with his speech patterns. Initially, the staff at Greggs would rely on Joanne to communicate Tony's order to them. However, Joanne encouraged the staff at Greggs to get to know Tony and his way of communicating. Consequently, Tony is now able to order his meal himself and the staff now chat with Tony and greet him whilst he's enjoying his meal.  
"Tony's face now lights up when Joanne arrives, and he'll eagerly tell her to get in the car because he wants to go to Greggs! Rather than us always asking him if he wants to go, he's now the one instigating it because he genuinely enjoys and wants to go on these outings – it's really nice to see. 
"Our hope is that this experience will continue to boost Tony's confidence, encouraging him to go out more often and try new things. We are already seeing him reach huge milestones – he recently went on a day trip to Skegness – it's just amazing and we are all so proud of him."