Gift in will transforms living space for FitzRoy care home

A gift in a will has transformed the living space of FitzRoy's East Sussex care home, and we spoke to service manager Denise about the positive impact it has had for the people she supports.
Denise, service manager at Webb House, said: "We were so touched and grateful to find out we had been left a gift in a will, and wanted to make sure we did something of lasting impact with the money. My senior support worker Tracey and I spoke with residents and decided we should use the money to transform our living space. We had an extension about seven years ago which we haven't made the most of, and the people we support wanted to split the room into different areas for everyone to enjoy.
"They decided they wanted a comfortable TV and film area, somewhere to do their arts and crafts, and somewhere where they can sit and have a coffee. We got to work and ordered some lovely comfortable sofas to go into the space – we already had a huge TV but nowhere nice to sit.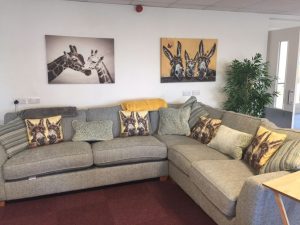 "The arts and crafts area is next to the window, and the people we support made it theirs by painting their handprints up the wall, which just looks amazing. We also have got two computers so we have made an area which we are turning into an internet café, where people can relax, use the computers and have a coffee.
"Everyone has had their say in how they want it to look and they've really enjoyed making the space their own. We've had a lot of trips to The Range to make it perfect! It's been so fun, it's their home and they have it how they want it.
It's really brought me back to why I do the job – seeing this transformation we were able to achieve and the impact it has had on the people we support is just incredible.
"This project has given the people we support more ownership of their own home, it's also brought them all together because they've all been chatting about it and getting excited about it. It's such a great place to sit and relax now and in such a busy house it's a special thing to find that quiet spot. They love coming together to watch a film or the football, and everyone seems so much happier.
"Legacy gifts have such a huge impact – it gives us the opportunity to do the above and beyond things we wouldn't have the money for otherwise. This gift has completely transformed Webb House and we are so grateful."