It's Thank You Week at FitzRoy!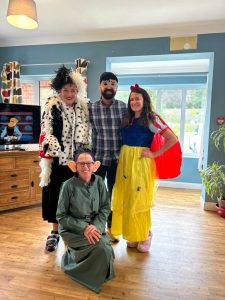 Throughout the year we celebrate the achievements of the people we support, as they reach their goals, and thrive in their communities. This week – during Professional Care Workers' Week – we celebrate the people behind the scenes, the supporters, the facilitators, the enablers – our incredible staff – during FitzRoy's Thank You week.
Social care staff often go unrecognised, for their compassion, their expertise and their determination – advocating for people who are often unable to fight their own battles.
This week has been full of celebration at FitzRoy as we thank all our staff for the incredible work they do every day.
Anna, Chief Executive said: "It's fantastic to have seen so many well-deserved Thank You Week celebrations this week, recognising how our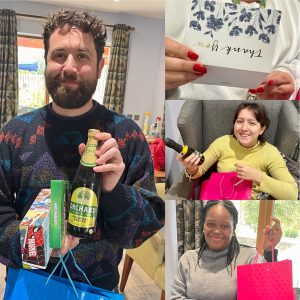 staff go above and beyond – living our values of being brave, creative, and seeing the person – every day to achieve positive change for the people we support. Along with the FitzRoy directors, I have been visiting services throughout the week, and giving out special recognition awards. I am proud of the excellent person centred support I have been seeing in action."
At FitzRoy, teams across the country have been celebrating their collective achievements during activities from bingo to Disney-themed dress-up days and appreciation breakfasts.
In recognition of our staff, we wanted to share some compliments we have received recently. – we wish we could share them all! And a massive thank you to all our staff for your continued hard work.
The service is a beautiful person-centred and family home I would happily live there myself. The quality of your staff shines – everyone so friendly and calm and supportive of each other and of the residents.
We would like to say a huge thank you to the staff team here for all they do for our family member and all the support that is given in such a person-centred way, especially with promoting her Jamaican roots, like cooking Jamaican food, doing her hair, and using the right products for her hair. Thank you a million times.
I just wanted to say it was beautiful to see someone take pride in their work and be so full of ideas and the desire to do more. The works they have collectively done in the courtyard is outstanding. Share with them our gratitude and make them realise we appreciate the work and do not only come in to point out things that may go wrong. Once again thank you.
I just wanted to say how much I enjoyed visiting Philippa yesterday. On each occasion that I've seen her this year, and indeed for the past twelve months or more, there are signs of how well-settled she is here, laugh and smiling with her carers, sitting upright and attentive in her chair, enjoying interactions with the other residents, listening to music and stories on her sound system and eating VERY well. This is mostly because your staff have understood and adapted so well to her needs. A joy to see.