Love4Life brings us the Wizard of Oz!

Rehearsals are in full swing at Love4Life for their upcoming Christmas production of The Wizard of Oz. For the last four weeks, Love4Life members have been rehearsing for the upcoming event.
Love4Life manager Hayley, who has been running the rehearsals with Love4Life coordinator Lauren,  said "A production like this allows Love4Life members to discover new skills,  interact with each other in new ways and to bond and create new relationships, which is what Love4Life is all about!"
Some members have performed in our previous productions, but most are completely new to performing, so it has been incredible to see how brilliant everyone is doing. Week by week they are growing in confidence, it is really special to see.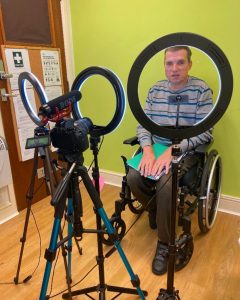 "Love4Life is essentially a lifeline for autistic people and people with learning disabilities. It's a place where they can get support and advice as well as making friends and potentially finding love. It's a place where they can feel comfortable, safe and appreciated."
Love4Life member Leon has grasped his role as Wizard of Oz. Here he is pictured behind the scenes, filming the famous "Meeting of The Wizard" scene where Dorothy, The Scarecrow, The Tin Man, The Lion and Toto finally make it to the Emerald city to meet Oz. This will be projected onto a big screen during the performance with sound effects and lights to really make the production come alive. Leon had a blast during the filming and said: "I can't wait for the production, I'm really excited to see myself on the big screen."
The performance is at Ashcroft Arts Centre,  Fareham, Hampshire on Thursday 9 December and Friday 10 December.
Buy Tickets For Thursday Performance
Buy Tickets For Friday's Performance
For those who cannot make the performance in person,  on 16 December, we will be premiering a short film of the performance highlights and behind the scenes interviews with the cast, so watch this space!