New activity space project is underway

A £100,000 project to transform an unused building into a state-of-the-art activity and multi sensory space is underway at our care home in Norfolk.
Thanks to a huge amount of work from the fundraising team, the property team and the service, plans to create this new space were able to begin this year, meaning the people we support will be able to enjoy a brand new communal area to take part in their favourite activities.
Debbie, service manager at The Pastures, said: "It has taken three years of fundraising, plus support from the families of our residents, but we are now underway with the project and on track to have a brand new activity space for the people we support by June.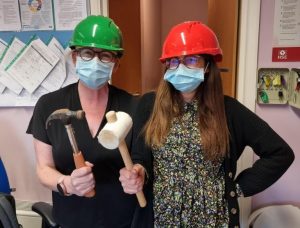 "The project is completely overhauling a redundant building in our care home, and transforming it into an activity and multi-sensory space. This means the people we support will effectively have their own on-site day service, where they can do the activities they want, when they want.
"Because we have limited communal space in the bungalows, we were missing that sense of community, and we were limited with how many people could be involved in one activity at a time. This new building will mean everyone can come together at once, and we can accommodate family members better too.
"We have our own activities coordinator, Alexa, who plans so many activities for our residents. The people we support love everything from dancing to baking, and this space means Alexa can plan even more. We want to hold pamper sessions and aromatherapy classes – we really will be able to cater for every individual.
"The new space will also include a sensory room, meaning the people who want more of a quiet space can use it for some relaxation time. It's all about giving the people we support the independence to choose to do what they enjoy.
"We are also building a Changing Places toilet – a fully accessible bathroom open to our residents but also members of the public.
"Seeing the project progress is so exciting, it is getting to the painting stage now so we have come a long way. Our residents have helped choose colours for the walls, and we've used this as a chance to give our bungalows a makeover with fresh paint too. The people we support are so excited, we can't wait to start using it!"
We are immensely grateful for the donors, funders and families who have made this project a reality for the people we support.