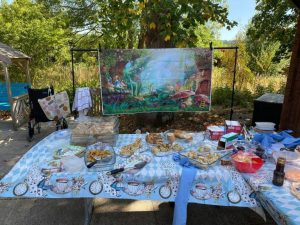 "We support 21 people living here, in four different buildings. This is great as they have their own space and facilities, but they may not see each other in the normal course of the week, as they're out and about doing different things or relaxing at home.
"We're always thinking of different ways to get everyone together to enable them to maintain their relationships. The communal garden plays a key role, as although we're not in lockdown, people still aren't visiting each other's houses so much so it's a nice way to get together.
"We are always planning something, and looking for any excuse to have a party. As well as the Mad Hatters Tea Party, last month we held a Jubilee party and we are planning an Italian theme day. For the FitzRoy Thank You Week the team are planning a 'Grease' party complete with Pink Ladies!"
There's never a quiet day working at Whitegates and you can read more about what it's like to work there here.
Senior support worker, Debbie, has worked at Whitegates View for nine years. She said: "The best thing about working here? The people. The staff, the people we support – everyone is just amazing. It's incredible knowing you are making such a huge difference to people's lives."