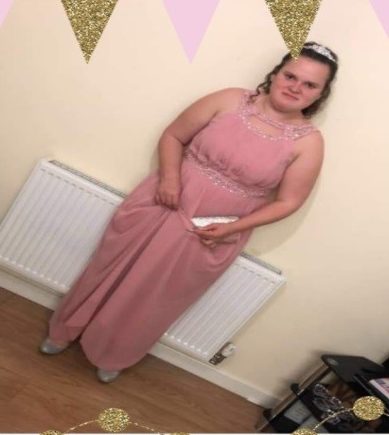 Courtney's journey to a perfect fit at FitzRoy
Courtney finds a home where she can shine – from a quiet, laid back supported living service to a more vibrant and lively environment to match her flamboyant personality.
Courtney's journey with FitzRoy started six years ago when she was 18. Her previous flat hadn't suited her personality and Courtney was struggling to find her feet and was clashing with her housemates. A home isn't just bricks and mortar, it's about finding a great match for the person, so they can live with like-minded friends. When Courtney found her previous home a little too quiet and laid back, we were determined to find her an environment where she could flourish.
Service manager, Emma said: "Courtney has a big personality, you'll always know when she's around. She was living in quite a quiet environment and she was finding it difficult to settle in.
"We had a room become available in one of our other supported living services in Coventry which we thought would be a good match for Courtney, we took her to see it and she wanted to move right away! She's very determined and once she wants to do something, she will. So within a month, she'd moved house.
"Courtney had soon settled in and was really happy in her new home. James, one of her new housemates said 'Courtney has a unique personality and she's already taught me to cook two things!'.
Courtney always wants to be helping people and it's amazing to see her getting stuck in with the other residents already and bringing out their personalities, she's really lighting up the house. James would never usually cook for himself. Even Colin, who is usually very shy and likes to keep to himself has been drawn to Courtney due to their shared background being from the same area, and they've quickly become friends.
"The move's given her a lot more independence and control over her life. It's also a lot closer to her family too so she's able to just come and go and see them whenever she wants.
"It's much quieter in her old flat without her, we're all missing her but she keeps in touch regularly. She's flourishing in her new environment and we're all really proud of her."
Courtney's story showcases the importance of finding the right fit for each person, and FitzRoy's commitment to seeing the person and finding the best environment for the people we support is what made this transition such a success!