FitzRoy Connect creates fun and laughter for people in Coventry
Our new Coventry day service, FitzRoy Connect, launched recently and has already got people coming along regularly to have fun and meet up with their friends, old and new. Connect offers day and community support and is a great opportunity for people in Coventry with learning disabilities and autism to make new friends and learn important life skills to help build their independence. The service's first open day at the end of September was a great success, thanks to a huge amount of work as well as support from team members near and far.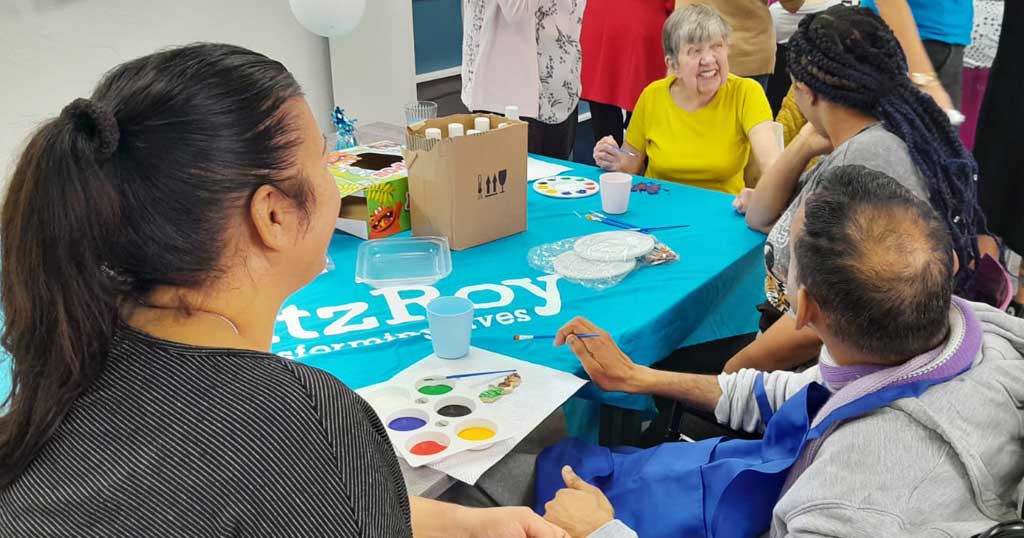 The open day gave potential new members the chance to find out more about the activities on offer and meet the staff – and of course say hello to each other too. Service manager Coral said: "It was fantastic to have so many people come along to our open day – the atmosphere was great. I knew we wanted our day service to be really buzzy and energetic, so it was a brilliant insight into how it will feel once we have lots of people coming along regularly.
"Many of those who came along to the open day recognised people they hadn't seen for ages – both people being supported and the staff – and it was lovely to see them all being reunited. As well as learning new skills, Connect is a place where people can come and meet their friends and have lots of fun so hopefully that was just the start of many catch ups here. It was also a really good opportunity for the Connect team to meet staff from other local FitzRoy services. It was great to see everyone getting a chance to network, share stories and tips, and really feel like part of Team FitzRoy."
Coral, who received the Above and Beyond Award in the FitzRoy Staff Awards 2023 in recognition of her incredible dedication and efforts to get her new service up and running, said: "I can't thank everyone who helped enough – they were all brilliant. My team bent over backwards to make it happen, and we had incredible support from the Hampshire day services, On Track and Waterlooville, both as we developed the service and on the open day itself. We couldn't have done it without them – their moral support alone made a huge difference."
Coral added: "It's really nice to have made connections with colleagues who we can now bounce ideas off in future despite being a long way apart geographically. Thanks to the inspiration from the open day, we started planning a range of pay as you go activities. This means people can enjoy meeting up with their friends here regularly even before they're officially signed up as members."
We've got an exciting timetable of activities planned, including  a coffee morning on 17th November for Children in Need – just follow our Connect Facebook page for updates on events and upcoming activities.
The day service already has a sensory floor projector, which the current members are really enjoying, and the team are busy planning a sensory board. They're also investigating possible links with and support from other local organisations. With plenty of ideas and enthusiasm to burn, the Connect team are determined to make their service a brilliant experience for people with learning disabilities and autism in Coventry, so if you – or someone you know – might be interested in joining Connect to have a great time, make new friends, and learn new skills, you can find out more here.
Want to join Connect?
Interested in finding out more about our Connect day service and signing up to become a member?
Find out more