FitzRoy support workers battled through the snow for people with learning disabilities

The beast from the east' and storm Emma were no match for FitzRoy staff.
Teams across the UK bravely battled through extreme weather to make sure the people with learning disabilities and autism they support continued to receive the daily care they need. We spoke to Jan Tyrell, FitzRoy Service Manager in Norfolk, who told us how proud her staff made her.
My teams across Norfolk, which was badly hit by the snow, have been absolutely amazing. They literally went the extra mile to get to work and support the people who need them.
Staff abandoned cars and walked miles to get here, with one walking over five miles across snowy fields! Many called on friends with 4x4s to drive them in and one member of staff was taken to work by a family member who delivered her safely in a tractor. He then did a few more trips to collect other members of staff. We also had staff staying overnight to make sure they could be there for their shift in the morning.
This tremendous effort has not gone unnoticed and I am incredibly thankful to every member of the team for making such an effort to keep others safe. Our staff across the country are so dedicated to the people they support and passionate about their jobs, which was clear to see when this extreme weather hit. Thank you, you are all incredible."
Justine May, FitzRoy Service Manager in Kent, tweeted about the efforts her team made.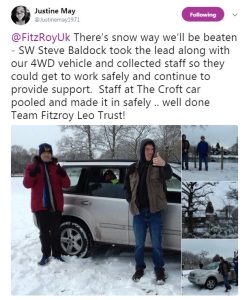 Thank you to all FitzRoy staff who went over and above their call of duty for the people they support.