FitzRoy's day and community services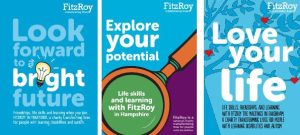 We believe everyone, whatever their ability, has the potential to learn, grow, and develop. Because of this all our day and community services are designed to meet the goals and ambitions of people with learning disabilities.
Our day and community services run all kinds of activity sessions to get people learning new skills, keeping active and making new friends – from cookery clubs to IT groups, from art projects to shopping trips, from horticulture to communication groups, there's something for everyone. In addition, we run ASDAN courses and support people with disabilities to volunteer at other community projects, using their skills to help others. By joining a FitzRoy day and community service, not only will you look forward to each day with us, you will be supported by highly trained and qualified staff on each course.