Greg flies to Greece for first holiday after lockdown

With travel restrictions lifting, the people we support are beginning to enjoy going on holiday once again. Greg, who we support in Kent, has just returned from a trip to Greece where he reconnected with family he hasn't seen in years.
Michael is the deputy manager of FitzRoy's care home Boldshave Oast and he supported Greg to travel to Greece. He said: "Greg has family who lives in Kefalonia and we have been trying to get him there to see his family for three years. The last time he went out there was nine years ago for his sister's wedding, it is a really special place for him. Obviously, because of covid, the trip got cancelled several times which was really frustrating. We were overjoyed when finally he was able to go this month.
"His mum owns a villa in Kefalonia and travels there for several months at a time, and his sister lives there with her husband and children. Whenever his mum goes over to the villa she worries that she isn't near to Greg, so she was over the moon that Greg was able to come out to see her – she was crying every day with happiness!
"He did so much while he were there, we hired a car for the week and went to every main town. We drove along the coast and went to the north of the island. He went on two boat trips, and  did a little hike at the top of a mountain which was amazing. The views were incredible.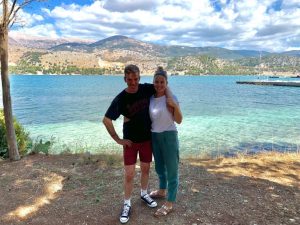 "One of the days he went to the town his sister got married, he walked into the church and Greg remembered everything from the day – it was such a special moment.
He made some incredible memories on that holiday, Greg's favourite part was spending time with his mum, it was great for them to have so much quality time together.
"It is wonderful to see the people we support go on holiday again. We do have an adventurous bunch at Boldshaves and it is so beneficial for developing their skills and who they are as a person.
"It is also amazing to see how we were able to maintain relationships between family members like Greg and his mum during lockdown – once they were together again it was like no time had passed. Greg had such a great time and has been so relaxed since he's got back."