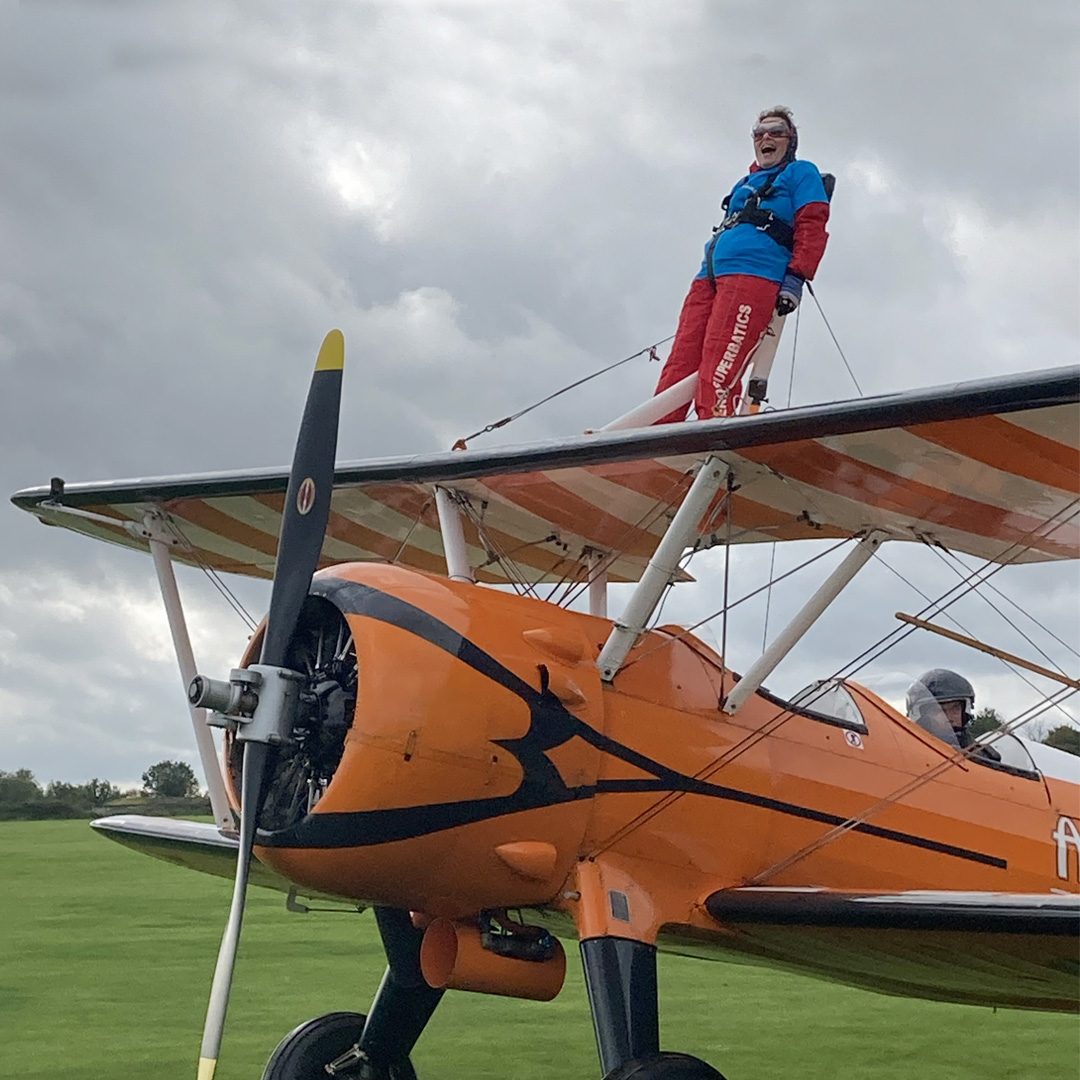 Honouring Angie: Amazing Audrey, 86, wing walks in tribute to her daughter
On Tuesday 26th September, FitzRoy supporter Audrey Harris took to the skies – at the age of 86 – in a daredevil tribute to her daughter Angie and to fundraise for FitzRoy.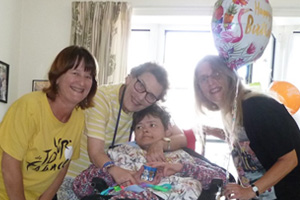 Audrey says, "Angie was expected to live about five years, she never walked, and only spoke a few words – but died aged 55 having brought happiness and smiles to me, her two sisters, and many, many others, and having lived a full life thanks to FitzRoy. Angie was cared for and treasured for 30 years by staff at their Malvern care home.
"Until she was five, the only times she spent away from us were two respite weekends at Donec Mews [the first service set up by Elizabeth FitzRoy]. I learned then of the amazing ethos of care as the staff thanked me for letting them look after such a special person.
"Subsequently the family moved away, and Angie spent years in the most unsuitable care situations until a miracle happened in 1993 when, with our local MP's intervention, Angie was able to move into the newly built FitzRoy home in Malvern. Angie regained her life and it has proved to be an amazing one, full of loving care, activity and excitement, with her family living nearby.
"We invited donations for FitzRoy at Angie's celebratory funeral, as well as at the Thanksgiving Service of her aunty, but I wanted to do something more. With my family spurring me on, I had the idea of doing a sponsored wing walk. We hoped to raise £2,000 but I'm delighted that we've reached over £4,000, which is just wonderful."
After her wing walk, where she was in the air for ten minutes, reaching 100mph and a height of 700ft, Audrey said, "It was so exciting. Would I do another one? Not tomorrow, but someday maybe – and maybe loop-de-loop when I reach 88, you never know."
Service manager Karen attended to cheer Audrey on and says, "It was such a privilege to be asked to go and be a part of Mrs Harris's special day in memory of Angie. With Angie having lived here for 30 years, it's not the same without her – it was a real shock for us all when she passed away suddenly and she's sadly missed by everyone, staff and residents alike. She was always very happy and content – full of the joys of spring.
"Angie's family are visiting today and we're having tea and cake and ringing bells in her memory, as she loved sensory things and music. Angie loved having her mum singing to her, but Mrs Harris would say she didn't want to inflict her singing voice on anyone else so she would take Angie to her room when she visited. Some of Angie's ashes are being scattered and she's being remembered through a rose bush in our memory garden. The garden was originally suggested by the sister of another person we supported here and it's lovely to have the people who lived here for so long back at their home again. Our residents can sit in the garden and remember their friends and of course their families can visit too – it's always really nice to keep the connection.
"We are so grateful to Mrs Harris for deciding to do a wing walk to fundraise for us as well as honour Angie's memory. She's a real inspiration achieving such a feat at 86 years old and it's incredible that she's raised over £4,000. Mrs Harris held a coffee morning a few weeks ago and raised over £500 from that alone, which we want to use to buy a bench to go in the memory garden. We're also planning to use the money she raised to get some lovely sensory things for our residents, which seems a very fitting tribute to Angie as she really loved sensory experiences and playing instruments."
You can donate in memory of Angie and to support Audrey's incredible achievement here. Donate now