Huws provides 24-hour specialist clinical nursing care and support to people with learning disabilities and autism who also have other health conditions such as epilepsy or dementia.
Due to the health needs of the residents, many of whom have heavy wheelchairs and require hoists, service manager Anne, along with her deputies Tracey and Rachel, worked on the planning and logistics of the holidays for many months, working out which staff could go on which trip and liaising with the staff at Centre Parcs, who allowed them early access to set up the rooms with the hoists, comfortable chairs, and the other equipment they needed.
Anne said: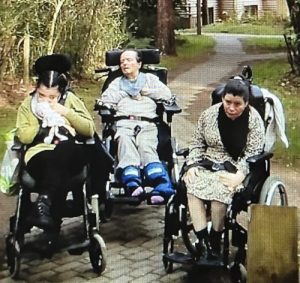 "There are four separate trips altogether, we are taking it in turns in small groups. In June, Alice, Rachel and Denise were supported by Georgina, Maxine and Karina, and last it week it was Louise, Carmella and Rosemary's turn and they were supported by Skye, Lucy and Pauline.
"The people we support always need 24-hour care so even something like going to the day centre is a huge achievement for them so doing things like the holiday to Centre Parcs and all the other activities we do at Huws, like attending football matches, is fantastic.
"I'm so delighted for the people we support and all the staff team. A huge amount of work goes into making even the smallest of things happen, and for it to go smoothly and to hear what a great time they've had makes it all worth it."
"We make sure each person has a rich and fulfilling life, living with dignity and with person-centred care being the very essence of Huws."