James, 27, a member of our Love4Life project, took part in the Channel 4 show The Undateables, and while he didn't get together with anyone on the show, we're pleased to say that he's now found love through Love4Life.
Filming began at the start of 2018 and James says he enjoyed the whole experience and felt confident about going on TV. With a diploma in performance, James wasn't too fazed by the cameras, as he says in his own words, he is a performer.
That was very clear when he was interviewed on ITV's This Morning in the run up to his episode of the Undateables airing. He told us before he went on This Morning:
I am buzzing about being on the show, but really nervous as this is the first time I have done live TV."
He'd told all his friends and family and he received some lovely comments after his appearance.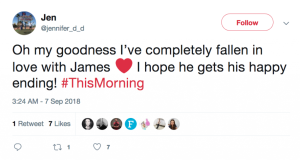 James didn't find love on the Undateables, but we are delighted to reveal that he got his happy ending and is now in a relationship with another member of our Love4Life project. They had their first date at TGI Fridays at the beginning of August and it wasn't long before he knew he was in love.
He says: I kept it to myself for a while, and then I told her."
When asked what he thinks his girlfriend likes the best about him, he is almost too shy to say, but after a bit of prodding he admits he is a handsome charmer.
James has some great advice for anyone who is looking for love: Go for it, follow your dreams, find your right boyfriend or girlfriend. Everyone deserves to be in love!"