Mark finds new independence through his Alexa and talking watch
Mark lives in our supported living service in Uckfield. For Christmas, Mark's sister bought him an Alexa which has helped Mark to become more independent and be able to do more things himself.
Support worker Ian said: "One of Mark's favourite hobbies is listening to the radio. If we ever forget to put the radio on, he quickly lets us know!"
Because of Mark's love for listening to the radio, Mark's sister had the idea to gift him an Alexa for Christmas so that he could have the freedom to listen to the radio as and when he wanted to, as previously he relied on staff to switch it on for him.
Ian said: "The Alexa has been a bit of a work in progress. Mark will sometimes speak too softly for Alexa to pick up what he's saying, but even if he doesn't say it loud enough and staff repeat the command, it's about empowering Mark to have more independence and make choices. It's about him instigating that, it's on his terms and he's slowly but surely getting more confident with using it every day.
It's definitely worth the patience and perseverance from staff just to see how happy he is when it works.
"Mark's very sociable and loves to know what's going on. His favourite place is sitting in the hallway because then he's in the hub of everything going on, he knows when people are coming in the front door or up or down the stairs and he can hear everything that's going on and have chats with people.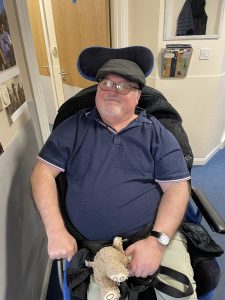 "Mark is always looking for ways to interact with people. He loves to know the time and would always ask the staff what time it was.
"Mark's key worker Phillip thought a talking watch would be good for Mark so that he can check the time and date for himself, and what a great idea it was!
"He just presses the buttons and he can find out the date and time. Now when we see him we'll always ask him what the time is and he's more than happy to tell us! It's empowering him to have more independence but also making him feel like he's doing something useful as he can give us that information. He's become our very own Big Ben!"