Opening up the world for Alison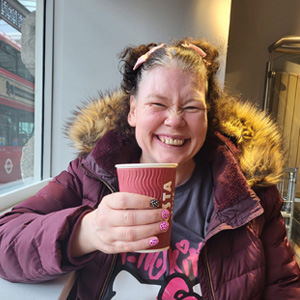 Vanessa has supported Alison for several years now at one of our supported living services in Hampshire. She said: "Alison has always been a bubbly, outgoing person, and because of her learning disability she needs support so she can look after herself – we support her with her cooking, her medication and also how she manages her emotions. If Alison gets very excited she can become quite agitated and overwhelmed, so when we started planning her holiday to London we had to support her very carefully. She can really struggle with the comedown from exciting events like her birthday and Christmas, so going on holiday is a really big deal for her."
Vanessa said: "I spotted that Jason Donovan was performing in Grease in London, and I know she really likes him after seeing him in concert, so I mentioned it to her and she was very keen to go."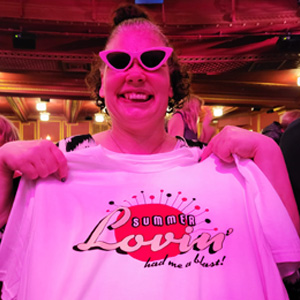 The first day of their trip saw Alison and Vanessa on the train to London. Alison said: "I took my favourite drink, coffee, and some sweets as well as a colouring book for something to do on the train. When we arrived in London we had lunch in my favourite coffee shop, before going to the hotel. The people there were very friendly.
"When we went to the theatre I met my favourite star, who was playing the Teen Angel in Grease musical. I said hello and had my picture taken with him. I really enjoyed seeing Grease – I sang and danced at the end."
Deputy manager Tamara added:
Alison is a real people person – she really enjoys a chat, so going to London and meeting lots of new people is hugely exciting for her. It's something so many of us just take for granted, that we can go and do something like that, and yet Alison had never been on holiday before she moved here. It took a huge amount of organisation – and was a real undertaking for the staff who accompanied her – but I'm so proud we made this happen for Alison.
"We're also very lucky to have a really wonderful community in our village. The people we support are well-known at our local Costa and Alison loves going out to the local market – at one point she befriended one of the stallholders, who would give her a free banana every weekend. She also loves the fish and chip shop, which is usually first choice for a house takeaway – they're all lovely in there and give her birthday and Christmas cards, which she loves."
Alison said:
I enjoyed my little holiday in London very much and I am already thinking of where I can go next year.
Regional manager Nicki said: "Vanessa and the service team have illustrated the FitzRoy values of being brave, creative, and seeing the person beautifully here by making this trip possible for Alison – very well done all! We'll just have to watch this space to see where next year's holiday takes her."