Spot the FitzRoy Ford Car Transporter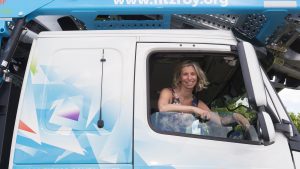 We are extremely grateful to our friends at Ford in Dagenham. Not only are they keen supporters of our local FitzRoy services, giving up their time to help out in the garden or with DIY projects, they've also dedicated a brand new Ford car transporter to FitzRoy. They have custom painted the transporter with our values, We See the Person, We are Brave, We are Creative, and used our logo and messaging to spread the word. Marianne Radcliffe, Director of Fundraising and Marketing at FitzRoy, went to see the transporter, and was very impressed.
It is always a pleasure working with the team at Ford. They are passionate about what they do, and about supporting people with disabilities through FitzRoy. We are honoured they have chosen us as one of their charities and to have the car transporter out and about delivering cars across the length and breadth of the country. We hope many people enjoy seeing it on their travels. Thank you to the terrific team at Ford, we love working with you.