Staff are there at every step for the people we support
At every step of someone's journey at FitzRoy, our staff are there to offer support and guidance, always putting the people we support first.
When it was announced that our care home in Cheshire was being closed as it needed extensive renovation and was no longer fit for the needs of the people we supported there, service manager Davina and her team's top priority was making sure that everyone found a new home that they loved.
Davina, who has worked at FitzRoy for 31 years, said: "We supported five people who had lived together for 30 to 40 years, so we knew it would be a huge change for everyone to have to move from a home they have lived in for decades.
It has been a huge emotional rollercoaster for everyone. Of course, our staff have been feeling the impact as well, but have put the people we support first, making sure they felt reassured, safe and involved in the decisions about where they will be moving to.
"Vivian and Peter have moved to two new providers and Neal has moved to FitzRoy's supported living service in Birmingham. My team have been amazing and have supported Neal to have day trips to visit the service to feel comfortable with his new environment.
"We worked closely with service manager Danielle to make sure Neil had a smooth transition, which also included overnight stays before he fully moved in.
"Graeme and Andy still wanted to live together after being friends for so long, and my team supported them in the incredible task of moving more than 200 miles to FitzRoy's care home in Surrey. They had their ups and downs but they have settled into their new home so well and staff are happy that they are staying within FitzRoy so they can visit them.
"Every person that moved out had a leaving do meal down the pub, we made it special for them. We also had a party for Graeme, Andy and Peter who were the last three to move and invited their friends and family. It was lovely getting everyone together and to wish them well in their new homes.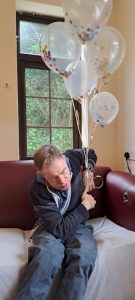 "Throughout this really challenging time staff have been exceptional. Our drivers did long journeys taking the people we support to their overnight stays, people had to rearrange childcare last minute so they could help out with the moves, and many had to put on a brave face for the people we support so we could be there to reassure and support them.
"We are finally coming out the other side now, all the people we support have wonderful new homes, and we've all taken away such incredible memories from being at The Coppice. We can't wait to keep hearing updates about how the people we support get on in their new homes and visit them in the future."
Angela, FitzRoy's director of operations said: "Davina and the team have been incredible. They have been working so hard to do their absolute best for the people we support at a really tough time. We were devastated about taking the decision to close our Cheshire care home, we looked at every possible way to avoid it, but in the end it was our only option. To see how brilliant the team have been is just wonderful – I want to thank each and every one of them. The local authority have been singing their praises as they are so impressed with how they have managed the transition for everyone."